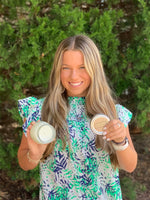 Deep South Luxury
Welcome to Deep South Luxury Candles. Our candles are made locally in Trussville, Alabama. We take great pride in hand pouring each candle one at a time. All candles, wax melts and concrete candles are triple scented. Each candle has excellent scent throw and burns evenly. Consistent fragrance through the entire candle. 
We use the finest fragrance oils, cotton core wicks and a luxurious paraffin blended wax. 
We are so proud to share our candle collection that is hand crafted in our home and by our hands to your home. 
Deep South Luxury Candles smell amazing and help make your home warm and inviting. We hope you enjoy your candle and will find a fragrance you will fall in love with.